Denver Water Removal Services
Save Money

Minimize

 Downtime
Get Back to Business
Schedule a quote today!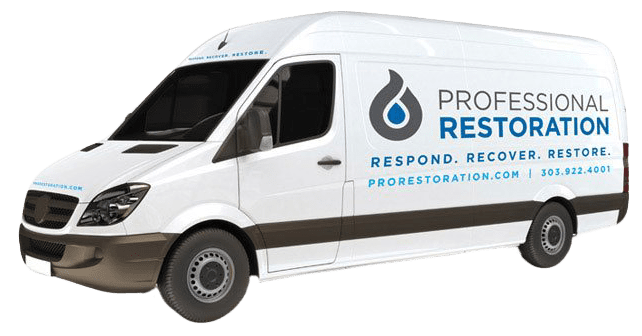 Proudly Serving the Denver Metro Area & Beyond
Whether you've been through a mechanical failure, or a pipe burst in your basement, you can count on Professional Restoration for a suite of water extraction services. Our knowledgeable, compassionate staff will dispatch technicians to your property to get a handle on the situation and start the water removal process right away. Each professional restorationist on our team receives comprehensive education and certifications to make sure every aspect of your request is prioritized, no matter the damage.
At Professional Restoration, we dedicate ourselves to helping people through our restoration and water removal services. Our owner is a certified restorationist, making us one of the only three companies in complex, high-quality restoration in the state. With our knowledge and certified expertise, we're ready to recover and remediate so you can rebuild and move on.
OUR SPECIALIZATION
Professional Restoration: the Water Extraction Company That's Here for You
When you notice standing water on the floor of your home, you may disregard it if it's nothing substantial. However, what most home and property owners don't realize is that even a small amount of water can lead to immense property damage if not addressed quickly. Mold growth and structural damage can occur if you're not familiar with the warning signs or don't have a knowledgeable professional from a water removal company like the team at Professional Restoration assess the damage. 
When your home is damaged because of a burst pipe or weather event, you need to act quickly to remove the water. The longer it sits, the more likely that your property's foundation and structure will suffer severe water damage. The helpful and experienced team at Professional Restoration is the Denver water removal company that's always ready to provide you with water extraction services that you can count on. We work quickly and efficiently because we understand how detrimental water damage can be to your property and daily life.
Our water removal strategy includes top-notch equipment, skills, and knowledge. We have tried and true methods of water extraction from a variety of properties, so you can trust us to give you the best possible service. At Professional Restoration, we offer 24-hour emergency service every day of the week, so you can get help when you truly need it, not the next day.
Water Removal Services Designed to Get You Back to Normal
If your property has recently experienced a burst pipe or similar water emergency, the certified team of experts at Professional Restoration are ready to put together a water removal plan for you. Regardless of how serious or complex your situation is, Professional Restoration will provide the removal, remediation, and restoration services to help you through any emergency. We proudly serve Denver and the surrounding metro area, helping both commercial and residential spaces with water extraction services so they can return to normalcy and business or life as usual.
The majority of the water removal calls we receive from concerned home and property owners cite claims of damp wood flooring, wet rugs or carpeting, or standing water on top of tile floors. Other signs we recommend keeping an eye out for include water damage spots on walls or ceilings, frequent streams or dripping water along interior walls, or frequent standing water along the perimeter outside of your home or property. The sooner you can prioritize starting work with a trusted water extraction company, the sooner you can stop the damage from spreading and return to business as usual.
Call Professional Restoration Today!
At Professional Restoration in Denver, we specialize in providing our clients with reliable restoration practices and superior care. Thanks to our decades of experience, we offer our expertise across a wide variety of areas with the precision and professionalism clients across the Denver Metro area deserve. Our services aim to help with everything from restorative work involving sewage backup and fire damage to mold remediation, structural repair, and water removal.
We understand that living and working through restoration and water extraction services can be incredibly challenging. That's exactly why the Professional Restoration team is committed to being with you every step of the way, including dealing with your insurance company to ensure the process is manageable and equitable for you. Our staff has decades of experience navigating complex insurance claims and we're prepared to put our expertise to work for you. When the time comes to invest in a high-quality restoration company, look to Professional Restoration to supply you with skilled staff members, reliable techniques, and courteous customer service.