Commercial Water Damage Restoration
Save Money

Minimize

Downtime
Get Back to Business
Request a quote today!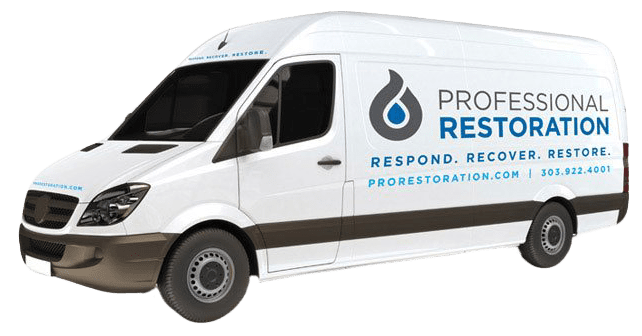 Proudly Serving the Front Range & Beyond
Many commercial properties across the Front Range experience water damage each year. Whether it's due to a mechanical failure, a burst pipe, or a flash flood, your business can't afford the lengthy downtime caused by sudden or severe water damage. When you need to get back to business as usual as quickly as possible, reach out to the team at Professional Restoration for all your commercial water damage restoration needs. 
At Professional Restoration, our team has over a decade of experience in the field of commercial water damage repair. Our range of remediation and restoration services are backed by our extensive certifications and knowledge in working throughout the Denver Metro area. Learn more about our history or contact us to request your custom quote today.
OUR SPECIALIZATION
Mitigation & Restoration After Commercial Water Damage
When you notice standing water on the floor of your property, you may disregard it if it's nothing substantial. However, what most property and business owners don't realize is that even a small amount of water can lead to immense property damage if not addressed quickly. Mold growth and structural damage can occur if you're not familiar with the warning signs or don't have a knowledgeable professional from a commercial property water damage company like the team at Professional Restoration assess the damage. 
When your business relies on a property to keep revenue coming in, the last thing you want–or expect–is water damage to grind everything to a halt. If left too long, water damage can destroy your commercial property's foundation and structural integrity, and destroy your overall ROI. You need a partner that will be as committed as you are to getting your space back to normal.
At Professional Restoration, we understand how important it is to minimize the loss of revenue, productivity, and customers, so our commitment to you is quick and effective 24/7 commercial water restoration services. We'll do everything we can to help you safely reopen and start generating revenue again.
We're Experts in More Than Just Water Removal
By working with a company that also specializes in mold removal, you can return to your commercial property with the peace of mind knowing that your space is safe, both structurally and for the health of you and your staff or tenants. Professional Restoration's team of professionals has the knowledge and expertise to handle and plan for any issue that may arise. With us, water damage at your commercial property will be remediated and removed so your customers won't be able to tell the difference. 
Many of the calls we receive from business and property owners are due to claims of wet rugs or carpeting, damp wood floors, or standing water on top of tile flooring. Additional water damage signs that we strongly recommend looking out for are water stain spots on ceilings and walls, frequent streaming or dripping along interior walls, or constant standing water along the exterior perimeter of your business or property. The sooner you can prioritize starting work with a trusted commercial water damage repair company, the sooner you can stop the damage from spreading and return to business as usual.
Call Professional Restoration Today!
The Professional Restoration team's specialty is in offering restoration services across a variety of fields. Over our decades of experience, we've acquired expertise across a variety of fields and strive to help with everything from commercial water damage restoration and fire or water damage, to sewage backup, structural repair, and mold remediation. When you're ready to look for a commercial water restoration company, consider Professional Restoration for our reliable processes, certified staff members, and superior customer service practices.
We understand that working through the commercial water damage repair and restoration process can be an immense challenge. That's why the Professional Restoration team will be with you every step of the way, especially in dealing with your insurance company to ensure the process is manageable and equitable on your end. Our staff has decades of experience navigating complex insurance claims and we're prepared to put our expertise to work for you. When you're ready to look for a commercial water restoration company, consider Professional Restoration for our reliable processes, certified staff members, and superior customer service practices.