24 Hour Emergency Water Damage Restoration in Denver
Save Money

Minimize

Downtime
Get Back to Business
Schedule a quote today!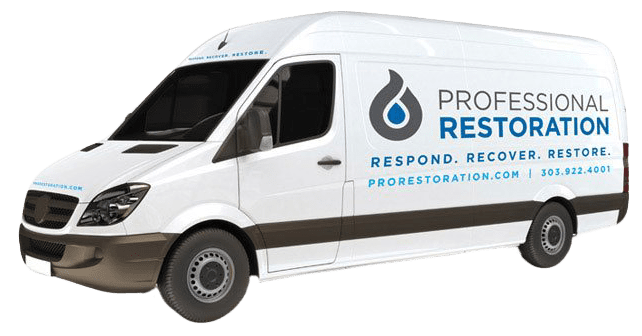 Proudly Serving the Denver Metro Area & Beyond
Water is a dangerous force, especially to a property's foundation and structural integrity. When left unchecked for even a short amount of time, water can quickly destroy your space and investment in it. No matter the cause of your water damage, you need an 24-hour emergency water restoration company that will answer your call day or night to save your home or business and get you back on track. 
After you've stopped the cause of your water damage, it's time to turn to the certified experts at Professional Restoration. We will put together a solution and quickly take action, offering emergency water removal services and a restoration plan that's tailored to you and your tight timeline. Learn more about how we can use our expertise to help you.
OUR SPECIALIZATION
24-Hour Emergency Water Restoration When You Need it Most
When you see standing water on the floor of your property, you may disregard it if it's nothing noticeable. However, what most property and business owners don't realize is that even a small amount of water can signal an emergency and lead to substantial property damage if not addressed quickly. Mold growth and structural damage can occur if you're not familiar with the warning signs or don't have a knowledgeable professional from a 24-hour emergency restoration company like the team at Professional Restoration. 
When it comes to water damage, the common culprits include burst pipes, mechanical failures, and flash flooding. It doesn't matter if you have a commercial location, own your own home, or manage a large residential property because a water-related emergency can strike anytime and anywhere. Whether you're facing a massive event or your incident is confined to a small space, you can rely on Professional Restoration to get the job done and help you put your property back in order, day or night. 
Contact Professional Restoration for emergency water removal services to ensure mold growth is prevented and your property is promptly restored. We have over 30 years of experience, so you can trust us to handle your problem with care and attention.
Our Experts Are Ready 24/7 to Get to Work
In the middle of an emergency, you need to know that you can trust that you have a company that's an expert in emergency water damage restoration in Denver. At Professional Restoration, we offer 24/7 emergency services to ensure we're always available when you need us most. We understand that most disasters don't happen during business hours, so whether you experience a burst pipe or flooding on a weekend or in the middle of the night, we'll be there for you.
The majority of the calls we receive from business and property owners come with claims of wet carpeting or rugs, damp wood flooring, or standing water on the surface of tile floors following a flood. Other signs of water damage that we recommend looking out for are water damage spots on walls or ceilings, frequent drips or streams of water along your interior walls, or constant standing water along the perimeter of the outside of your property. The sooner you can prioritize starting work with an emergency water removal services provider, the sooner you can stop the damage from spreading and return to life and business as usual.
Call Professional Restoration Today!
At Professional Restoration, we specialize in offering reliable restoration services to clients across the Front Range. Over the years, we've acquired expertise across a variety of fields and strive to help with everything from emergency water removal services and fire or water damage, to mold remediation, structural repair, and sewage backup.
We understand that trying to live and work through emergency water removal services is incredibly stressful and challenging. That's why the Professional Restoration team will be with you every step of the way, including through the process of dealing with your insurance company to ensure the process is manageable and equitable. Our staff has decades of experience navigating the intricacies of insurance claims and we're prepared to put our expertise to work for you. When the time comes to invest in a high-quality restoration company, look to Professional Restoration to supply you with skilled staff members, reliable techniques, and courteous customer service.