Mold Removal
Save money
Limit Downtime
Get back to business
Schedule a quote today!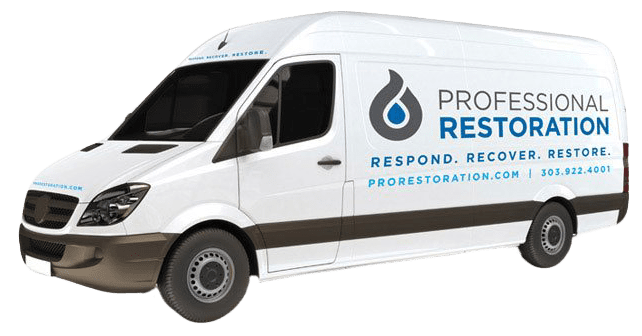 Proudly Serving Denver Metro Area and Beyond
Mold removal is a service which needs to be done expediently and efficiently if you want to minimize the amount of damage the fungus will cause. Furthermore, mold remediation is a process that should not be rushed; if any spot is missed, the probability is high that the fungi will take over your property again. Professional Restoration is here to help Denver with all its mold removal needs so that homes and business can live and work without encumbrance.
OUR SPECIALIZATION
Mold Remediation Is Vital for the Health of Denver Residents
Professional Restoration's mold remediation technicians are trained and certified by the Institute of Inspection Cleaning and Restoration Certification (IICRC); which mean, our staff is highly experienced and ready to handle any remediation job you may have. You'll be able to rest easy knowing that Professional Restoration is working tirelessly to thoroughly clean up the mold in your Denver home or business. Plus, our services are both affordable and accessible, so you won't have to worry about breaking the bank.
A Choice Mold Removal Company for Denver Residents
Denver residents know who to contact when they need a premium mold removal company—Professional Restoration. Our technicians are extremely knowledgeable about mold and how to eradicate its presence. Knowledge is power, especially when it comes to dealing with invasive biological entities. Leaky pipes can cause a moist environment even in Denver's dry climate, which provides the perfect opportunity for mold to take root in your home or business. Don't allow the health of you, your family and friends, or your employees to be negatively affected by mold; reach out to Professional Restoration ASAP.
Leave us with all the dirty work!
With Professional Restoration at your side, you can face disaster head-on and conquer it with confidence.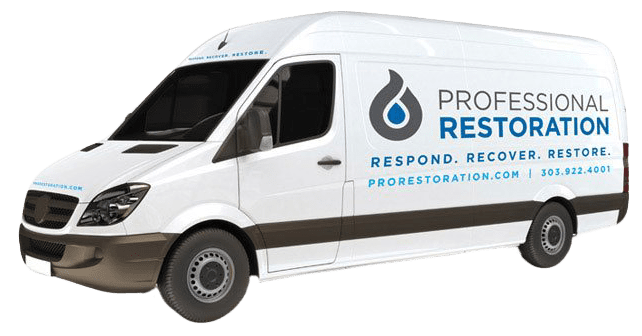 When Denver Residents Need Mold Removal, They Can Count on Us
Denver residents should never roll the dice on a mold removal company. Your home or business deserves to receive the best services possible when it comes to taking care of a mold infestation. Professional Restoration is always happy to render services in the Denver metro area because we love working where live. Denver is a beautiful city, and its citizens shouldn't have to deal with mold infestations, nor the health hazardous they bring. Denver residents can count us when mold presents itself.
Mold Remediation in Denver
Mold removal is something no home or business owner in Denver wants to deal with. With our employees on the job, there isn't anything to worry about when it comes to mold cleanup. At Professional Restoration, our staff has the experience and skill necessary to render both standard and black mold removal effectively and efficiently so that Denver home and business owners don't have to worry. We are here for anyone in the greater Denver metro area; so, don't hesitate to call us.
When Denver Residents Need Mold Cleanup, They Call Can Count on Us
Mold cleanup is a dirty job that no Denver home or business owner should try to handle themselves. Not only does the average home or business owner not have the required equipment or the certifications, but they also lack the training and experience necessary to make sure the work is contained properly. When Denver home or business owners need mold exterminated, they can rely on Professional Restoration; our mold removal services aren't just effective, they are affordable and accessible so that any Denver property can be free of mold.
Effective Black Mold Removal Service in Denver
Black mold removal is a delicate job that requires a lot of skill. Luckily, Professional Restoration checks all the boxes for thorough removal of black mold. Mold, although usually too small to be seen with the naked eye when floating around in the air, can be very hazardous to the health of humans and animals alike. No one should have to live with these toxic spores in their Denver home or business. We will make sure to rid your home or business of this toxic fungus no matter where it is hiding.
Mold Abatement in Denver
Mold abatement is a service that, when needed, is absolutely critical to the continued use of a given property. At Professional Restoration, we've seen it all, and won't have a problem getting rid of your infestation. Denver residents won't have anything to worry about with our staff on the job, and our clientele knows that.
Denver Can Trust Our Mold Mitigation Services
Mold mitigation is a service that is critical for any property which needs cleansing from hazardous biologicals. Professional Restoration wants to serve the greater Denver metro area so that no one has to worry about a mold infestation negatively impacting their lives. You can make mold insignificant in the event of water damage by having our contact information on your fridge so that we can handle the issue immediate in it ever arises at your home or business in Denver.
Residential Mold Removal in Denver
Residential mold remediation is our specialty. We believe that everyone in the greater Denver metro area deserves to live happy, healthy lives without having to worry about whether the unseen threat of mold is slowly deteriorating their health and the health of their property. Our staff knows how important it is to thoroughly cleanse your home and will do so with the utmost care and compassion. Call Professional Restoration when the worst-case scenario happens, and mold presents itself.
Mold in Your House? Call Professional Restoration in Denver
Mold in a house is something that no homeowner wants to handle. Often, mold infestations feel like insidious scourges—invisible and damaging. Mold doesn't have to make Denver homeowners feel helpless. Contact Professional Restoration, day or night, and we'll figure out what needs to be done in order for your Denver home to restored back to normal. Don't allow a fungus to turn into a show-stopping disruption in your life; let us handle it.
Our Employees Are Mold Removal Experts Who Want to Serve Denver Residents
Home mold removal can be extremely stressful if Denver homeowners—especially when it comes to choosing a mold removal expert. Luckily, the staff at Professional restoration will leap into action and take care of the problem in ways that are thorough and effective. Professional Restoration's employees will stop at nothing to ensure that our clientele is satisfied with our work.
Commercial Mold Removal in Denver
When the worst-case scenario happens, and mold is found inside your Denver business, Professional Restoration is the company Denverites can trust. Our commercial mold remediation services are high quality and sure to leave you satisfied. Commercial mold removal doesn't have to be a terribly stressful time when Professional Restoration is taking care of it for Denver business owners. Our employees are determined to render the finest customer service experience possible with every mold removal project because, at Professional Restoration, we really care about your employees.
Call Professional Restoration Today!
Professional Restoration specializes in supplying Denver, CO clients with exceptional care and dependable restoration practices. Our decades of experience have enabled us to tend to a wide variety of projects with the knowledge and expertise our clients deserve. Our services include a wide range of restorative work, from water and fire damage to mold remediation, sewage maintenance, and structural repair. When the time comes to invest in a high-quality restoration company, look to Professional Restoration to supply you with skilled staff members, reliable techniques, and courteous customer service.