Water Damage Restoration in Denver
Save Money

Minimize

Downtime
Get Back to Business
Request a quote today!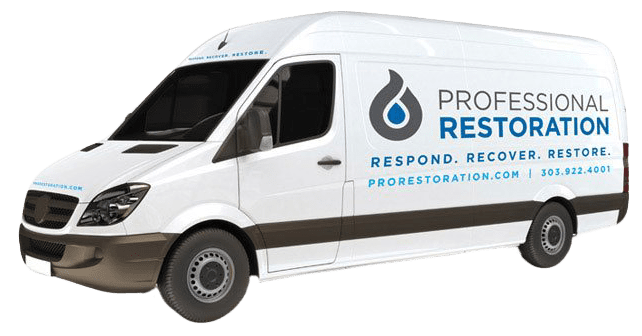 Proudly Serving the Denver Metro Area & Beyond
Has your home or business recently suffered sudden or severe water damage? Whether it was expected or not, you need a local water restoration company on your side who will act fast to save your building's structural integrity and get the water removed quickly and effectively. When business owners and residents in the Denver Metro area need restoration of their water damage, they trust Professional Restoration to get the job done. 
Our team of knowledgeable experts have experience in water removal, in addition to all the related services you may need along the way. Our owner is a certified restorer, making us one of only three companies experts in complex, high-quality restoration. No matter how complex or time-restrictive your situation may be, Professional Restoration will be ready, 24/7, to be there for you.
Decades of Experience in the Restoration of Water Damage Across the Front Range
When you notice standing water on the floor of your facility or home, you may disregard it if it's nothing substantial. However, what most property owners don't realize is that even a small amount of water can lead to immense property damage if not addressed quickly. Mold growth and structural damage can occur if you're not familiar with the warning signs or don't have a knowledgeable professional from a water restoration company like the team at Professional Restoration assess the damage.
Water damage, whether it's from a sudden flood or severe burst pipe, can put your family's health and building's structural safety in jeopardy overnight. At Professional Restoration, we've seen everything from minor cleanups to major commercial restoration projects, so we have decades of experience and skill to help you put your space and life back together. 
Over the years, we've tailored our services to fit everyone from commercial or industrial property managers to residential homeowners. The Professional Restoration team members you work with will restore your property back to its original state, complete with a detailed assessment strategy and property inspections to ensure your health and safety. With our state-of-the-art technology and practices, there's no water damage you can't return from when Professional Restoration is on your side.
Emergency Denver Water Damage Restoration When You Need Them Most
At Professional Restoration, we understand that accidents and emergencies always seem to happen at the worst of times. That's why we are happy to have our team on call at all times and offer our customers 24/7 emergency flood cleanup services. No matter the time or day, you can always count on us to take action right away and help you and your family or business return to normalcy as quickly as possible.
Many of the calls we receive from home and property owners are due to claims of wet rugs or carpeting, damp wood floors, or standing water on top of tile flooring. Other signs of water damage that we recommend looking out for are water damage spots on walls or ceilings, frequent drips or streams along interior walls, or constant standing water along the exterior perimeter of your home or property. The sooner you can prioritize the restoration of water damaged areas in your home or office, the sooner you can stop the damage from spreading and return to life as usual.
Call Professional Restoration Today!
The Professional Restoration team's specialty is in offering complete, in-house restoration services to address any type of property damage. Through our decades of experience, we are able to help with everything from the restoration of water or fire damage, to mold removal, and reconstruction services.
We understand that living and working through the restoration process with a remediation and water restoration company can be an incredible headache. That's why the team at Professional Restoration will be at your side every step of the way, including dealing with your insurance company to ensure the process is manageable and equitable for you. Our staff has decades of experience navigating the intricacies of insurance claims and we're prepared to put our expertise to work for you. When you're ready to look for a commercial restoration company, consider Professional Restoration for our reliable processes, certified staff members, and superior customer service practices.