Denver Flood Restoration
Save Money

Minimize

Downtime
Get Back to Business
Schedule a quote today!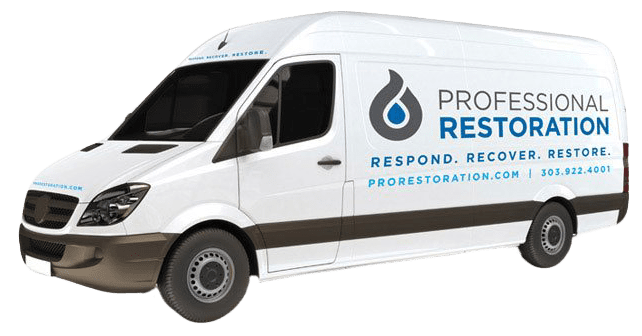 Proudly Serving the Front Range & Beyond
When you're looking for a reliable Denver flood restoration company, count on Professional Restoration to deliver comprehensive care and solve your problem. This means you can expect immediate responses to your service request and other questions, in addition to expert treatments in mitigation and restoration strategies. Our variety of flood damage repair services enable us to be there for you during every step of the repair and restoration process.  
After a flood, you need a team of experts to create a thorough cleanup strategy for you. Instead of spending precious time and resources trying to organize multiple companies, rely on Professional Restoration as your go-to for general and basement flooding repair. We handle everything from cleanups to restoration and repair services, so enlist our team in your cleanup project to ensure your property receives the most comprehensive flood damage repair in town.
OUR SPECIALIZATION
Professional Restoration: Leading Denver's Flood Restoration Service
While basements are the most common area of a property to flood, they can happen anywhere and wreak havoc on your building's structural integrity with little to no warning. When you're forced out of your home or business because of dangerous weather or a burst pipe, contact Professional Restoration and we'll help get the water out and your property back together in no time. 
Using cutting-edge technology and restoration practices, our general and basement flood restoration services provide you with quick and effective cleaning that will restore your space. With Professional Restoration handling your flood damage repair, your property will be returned to its former state, all at affordable pricing.
Flood Damage Repair Services Designed to Get You Back to Life as Usual
At Professional Restoration, we are proud to be one of Denver's flood restoration companies that specializes our service to each instance. The care and attention your property receives is uniquely designed to address your issues, not simply check a box on a general to-do list. Our team will provide you with expert remediation and restoration technicians to get all the water and debris out before restoring your property back to its previous state, whether you're in a commercial or residential space.
Most of the urgent calls we receive from home and property owners are due to claims of wet rugs or carpeting, damp wood floors, or standing water on top of tile flooring immediately following a flood in the area. Additional signs of water damage we recommend looking out for include water damage spots on walls or ceilings, frequent dripping or streaming water along interior walls, or frequent standing water along the exterior perimeter of your home or property. The sooner you can prioritize starting work with a trusted flood damage repair provider, the sooner you can stop the damage from spreading and return to business as usual.
Call Professional Restoration Today!
Professional Restoration specializes in reliable restoration practices and superior care to our clients around the Denver Metro area. Through our years of experience, we've gained expertise across a variety of areas with the reliability and professionalism our clients deserve. With our services, we strive to help with restorative work including fire and flood damage repair, mold remediation, structural repair, and sewage backup. If you're looking for a restoration company in your time of need, consider Professional Restoration for superior customer service, reliable processes, and highly certified staff members.
We understand that living and working through the flood damage repair and restoration process is incredibly stressful and challenging. That's why the Professional Restoration team will be with you every step of the way, including dealing with your insurance company to ensure the process is manageable and equitable for you. Our staff has years of experience navigating complex insurance claims and we're prepared to put our expertise to work for you. When the time comes to invest in a high-quality restoration company, look to Professional Restoration to supply you with skilled staff members, reliable techniques, and courteous customer service.